Her Grave Secrets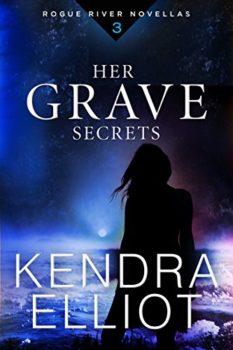 Rogue River #3
Rogue River Novellas #3
November 4, 2014
Audio, e-Book
There are no secrets in a small town—until someone has one worth dying for.
Local cop Stevie Taylor and police chief Zane Duncan have startling new proof that a deadly street drug is expanding its poisonous grip on their small town: a skull found on the banks of the Rogue River has two bullet holes in the back. Still caught up in the excitement of their new relationship, Stevie and Zane are determined to track down the drug's source before more lives in Solitude, Oregon, are lost.
Then one death strikes especially close to home, leading to heartache and confusion for Stevie. As the drug distributers strike hard and the body count in Solitude grows higher, she and Zane must hunt down the deadly killer—but are they the predators, or the prey?
Filled with unexpected twists, Her Grave Secrets is the third exciting Rogue River novella in the romantic suspense series from Kendra Elliot and Melinda Leigh.
Other Books in the Rogue River Series
Other Books in the Rogue River Novellas Series