Truth Be Told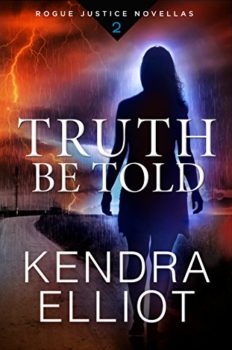 Rogue Justice #2
Rogue River Novellas #2
November 7, 2017
Audio, e-Book
The breathtaking companion novella to Twisted Truth by Melinda Leigh from Wall Street Journal bestselling author Kendra Elliot.
A torrential two-day storm has cut off the small town of Solitude, Oregon, from the outside world. But for police officers Stevie Duncan and her husband, Zane, the ravages of nature have nothing on the nature of man. In the last forty-eight hours, a child was a mute witness to a double homicide; an unidentified body has washed up on the riverbanks; and now, at the foot of a submerged bridge, two FBI agents have been found shot to death inside their SUV. What's worse, the young charge they were enlisted to protect has gone missing.
With the only exit out of town washed away, Stevie and Zane know that the murderer is trapped. But whatever's going on in Solitude is far from over—because as sure as the receding water, the killer is going to resurface.
Other Books in the Rogue Justice Series
Other Books in the Rogue River Novellas Series