Known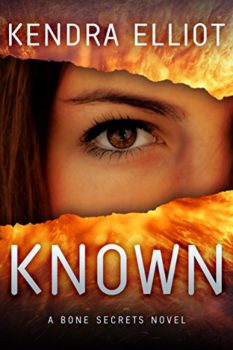 Bone Secrets #5
January 9, 2016
Audio, e-Book, Trade Size
A Wall Street Journal bestseller
After a brutal snowstorm in the Cascade Mountains, Chris Jacobs discovers two things he never expected to see: the charred shell of a cabin, and Gianna Trask and her sixteen-year-old daughter huddled in an SUV, having barely escaped from their burning vacation rental.
Still scarred from a childhood ordeal, Chris knows there's something sinister about the scene—it's the stench of burned flesh.
Forced to wait out the blizzard in their rescuer's retreat, medical examiner Gianna Trask wonders if her hidden past has finally caught up with her. When a body is found in the destroyed cabin's ashes and a forest ranger is brutally murdered, both Gianna and Chris must confront their secrets if they want to escape the violent threat lurking outside.
In the fifth book in the Bone Secrets series, Kendra Elliot leads readers on a dangerous, twisting journey of two lives forever changed by a fiery snowstorm in the mountains.
Other Books in the Bone Secrets Series