Hidden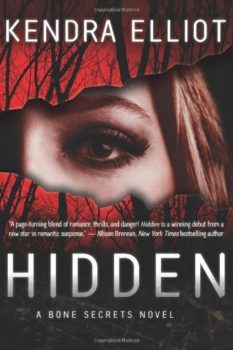 Bone Secrets #1
July 17, 2012
Audio, e-Book, Trade Size
Hidden is the first book in Bone Secrets, the multimillion-copy bestselling series.
Eleven years ago, the Co-ed Slayer murdered nine female students on the Oregon State University campus. Lacey Campbell barely escaped his attack, but lost her best friend whose remains were never found. As the sole surviving victim, Lacey helped send the sadistic serial killer to prison for life.
Now a forensic odontologist examining teeth and bones for the state Medical Examiner, Lacey is devastated when she arrives at a crime scene and identifies the skeletal remains as her college friend's.
The remains are discovered on the land of ex-cop Jack Harper. Sparks fly between him and Lacey, even as they realize that the prosecution's witnesses from a decade ago are now being murdered one by one. All the evidence points to the Co-ed Slayer as the culprit—only, he's long since dead. So who's the new killer? And is Lacey next in line to die?
Golden Heart finalist Kendra Elliot combines chilling suspense and steamy romance in a gripping tale, uniting in-depth forensic knowledge with a passion for thrillers. Set in the snowy winter of Oregon, Hidden creates spine-tingling chills.
Other Books in the Bone Secrets Series
★★★★½ stars HOT! –Romantic Times Book Reviews
Jack Frost sure can pack a punch in the Pacific Northwest during the wintertime, but with Elliot's debut novel on hand, you can bet your mittens this thrilling tale of passion and suspense will quickly generate significant snow meltage. Realistic characters and a frightening plot will keep readers spellbound with numerous twists and turns, and the book wraps up with a love scene that's hot enough to make a polar bear sweat. Here's a whodunit that will leave you gripping the pages so tightly your knuckles will turn white.