Chilled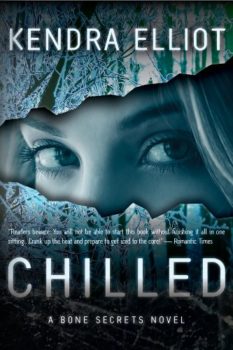 Bone Secrets #2
August 14, 2012
Audio, e-Book, Trade Size
Chilled is the second book in Bone Secrets, the multimillion-copy bestselling series.
As a forensic nurse on a search and rescue team, Brynn Nealey braves a dangerous blizzard to find the survivors of a plane crash in the Cascade Mountains. Joining her is Alex Kinton, a former US Marshal with self-destructive tendencies. Alex lies his way onto Brynn's team to find the man who killed his brother—and then return the favor. But once the team members reach the plane's wreckage, they discover everyone aboard has perished…except for the man Alex is hunting. Alex will do whatever it takes to track his target through the vast, snowy wilderness.
As the temperatures drop, however, so do Alex's defenses. His contact with the sharp, kindhearted Brynn makes his lust for vengeance difficult to reconcile with his growing feelings for a woman who risks her life to help others. What will happen to Alex's savage instincts when he finally has the opportunity to confront his brother's killer?
In Chilled, the next thrilling tale in the Bone Secrets saga, Golden Heart finalist Kendra Elliot weaves an icy tale of cold nights, cold hearts, and cold-blooded killers.
Other Books in the Bone Secrets Series
★★★★ stars HOT! –Romantic Times Book Reviews
Readers beware: You will not be able to start this book without finishing it all in one sitting. Alive meets The Fugitive in this suspenseful second entry in the Bone Secrets series. Completely original, with a tremendous nail-biter of a plot, readers will be hooked from the very beginning. The characters are so realistic they almost seem to walk right off the page. Crank up the heat and prepared to get iced to the core!