Alone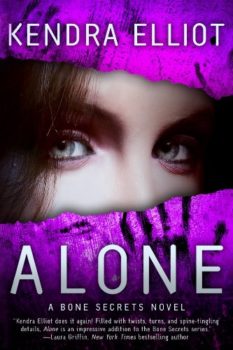 Bone Secrets #4
January 7, 2014
Audio, e-Book, Trade Size
RT Magazine 2014 Reviewers' Choice Finalist — Best Romantic Suspense
Suspense Magazine Best of 2014
One rainy night in the woods outside of Portland, Dr. Victoria Peres is called to the site of a haunting crime scene. Six beautiful young girls—all in white dresses and arranged in a perfect circle—have been left for dead. Only one girl, fighting for her life at a nearby hospital, has survived the carnage. Things get stranger still when Victoria and the police discover that the disturbing arrangement of the bodies—as meticulous as it is mysterious—is straight from the pages of a decades-old cold case. Victoria is called on to do what she does best, read the bones of the dead for clues…while dealing with the surprise return of her first love, medical examiner Seth Rutledge. Only this time she must figure out how the two cases, fifty years apart, are connected.
In the fourth book in her heart-pounding Bone Secrets series, best-selling author Kendra Elliot sends readers on a dark and thrilling journey as forensic anthropologist Victoria Peres races to solve a horrific new case while confronting the secrets of her past.
Other Books in the Bone Secrets Series
★★★★½ stars HOT! –Romantic Times Book Reviews
JANUARY 2014 RT TOP PICK!
A Kindle Top-Selling book for all of 2014
A Suspense Magazine Best Book of 2014
2014 Romantic Times Best Romantic Suspense nominee
"Elliot never ceases to amaze readers with her magnificent gift for romantic suspense, and book four of the Bone Secrets series is absolute proof. …fans of mystery will revel in the sheer thrill of uncovering the evil crime…Alone will definitely leave readers breathless!"– RT Book Reviews.