Tracks of Her Tears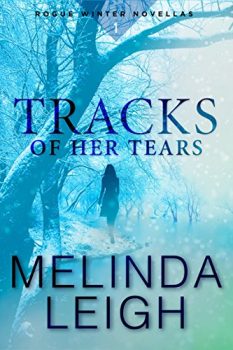 Rogue Winter #1
November 10, 2015
e-Book
In the first thrilling Rogue Winter Novella, sleepy little Solitude, Oregon, wakes up to another deadly threat.
County investigator Seth Harding intends to spend the holidays with his newly reconciled family, but a few days before Christmas, a homicide thwarts his plan. Seth arrives at the scene and makes a painful discovery: the victim is his brother-in-law's girlfriend. Her apartment has been ransacked and her toddler left motherless. To make matters worse, Seth's brother-in-law, Bruce, is missing. With Solitude locked in a rare, deadly deep freeze and the temperature plummeting, the residents launch a desperate search.
Seth calls his wife, social worker Carly Taylor, to take the case so the little girl doesn't get lost in the foster care system. With the holidays near, Carly brings the child home with them to celebrate Christmas. But when the Taylor farm is also trashed, Seth and Carly must race against time—and against a paralyzing winter storm—to find Bruce and catch a killer in the first pulse-pounding sequel to the Rogue River Novellas.
Originally published November 2015.
Kindle In Motion
This book can be read on any device, including Kindle E-readers. Kindle in Motion books include art, animation, or video features that can be viewed on certain Fire tablets and the free Kindle app for iOS and Android. You can switch features on or off at any time.
Other Books in the Rogue Winter Series